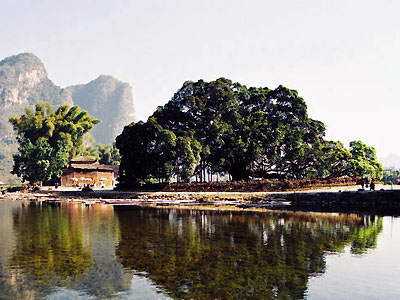 Aged Banyan Tree is located on the west bank of Jinbao River approximately 7.5km south of Yangshuo. It is said to have a history of nearly 1,400 years and has survived centuries of wind and rain. The Big Banyan Tree is now 17 meters high, 7.1 meters around the main trunk, and spans an area of 1000 square m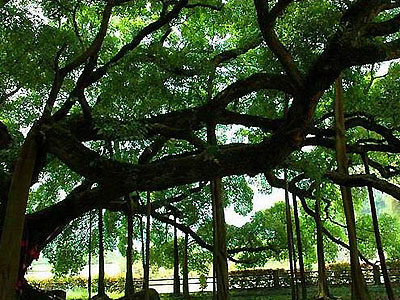 eters. As a major tourist attraction, the enormous Banyan is famous for its age and towering beauty.
Big Banyan Tree has survived from wind and rain over centuries since the Sui Dynasty (581-618), one of themain scenic attractions of Yangshuo Guilin. Although its stem is very old and its roots twist, its branches and leaves stretch out so lushly that the sunshine hardly penetrates its shadow. Sitting in its shadow on even the hottest day of the summer, you barely break out in a sweat. It is under this tree that the Liu Sanjie declared her admiration to her lover The A Niu. So this tree is one symbol of love as well, attracting many lovers come here to make wishes. As the old people told, for the couple, who make wishes here will get their dreams come ture, and for the single, who takes a photo with this tree will find his sweetheart soon.